Description
Stylize your path to wellness
Discover a really stylish way to keep track of your health and fitness. HUAWEI WATCH FIT mini offers you a more suitable way to achieve your goals by combining a classic rectangular look with powerful sport modes and health functions.
Beauty squared
Achieve true form elegance with the HUAWEI WATCH FIT mini's classic rectangular design. Delight in the elegantly rounded corners and edges of the slightly gold metal casing for timeless beauty in a smartwatch.
The essence of elegance
Each item has been designed with taste and functionality in mind. The slim but sturdy handles create a naturally streamlined look, while the precision-engineered crown blends seamlessly into the ensemble for easy control and effortless finesse.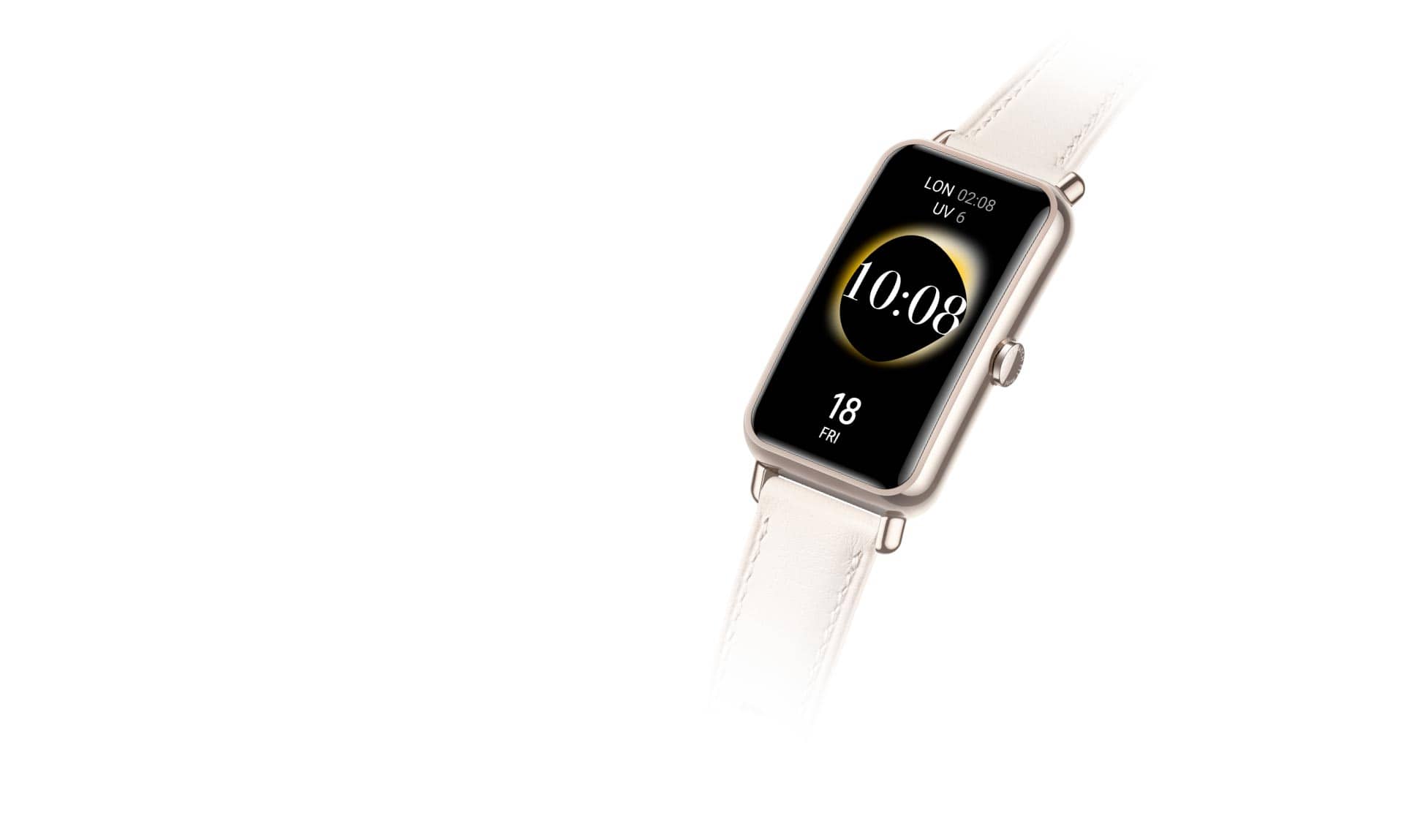 A vision in time
The HUAWEI WATCH FIT mini 1.47 "AMOLED FullView touchscreen is a marvel for your senses. Opt for the classic numeral watch face, or choose from 5 other pre-installed dials, each tailored to your way of life. Plus, check out HUAWEI Watch Face Store 2 to choose from over 300 more watch faces .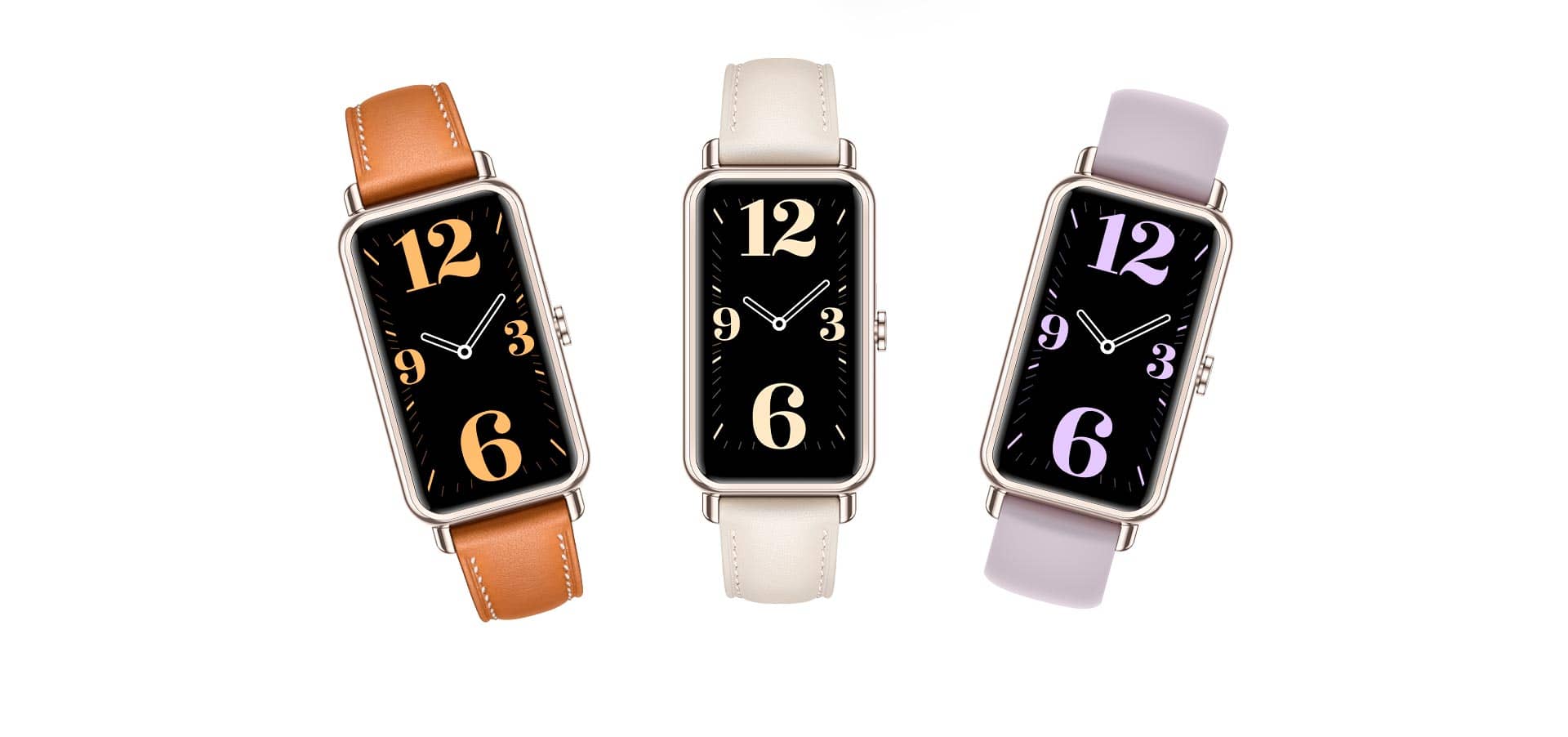 Comfortably versatile
Give your wrist the comfort it craves and buckle it up for any type of activity with 3 different straps. Indulge in the luxury of leather, enhanced by the refined stylus design, in frosted white or mocha brown. Or, for a more energetic look, go for the durable, allergy-resistant fluoroelastomer strap in striking Taro Purple.
Designed to fit with you
With its gently curved design, adapted to the contour of your wrist, and its lightweight aluminum alloy body, HUAWEI WATCH FIT mini adapts to the way you are and how you move.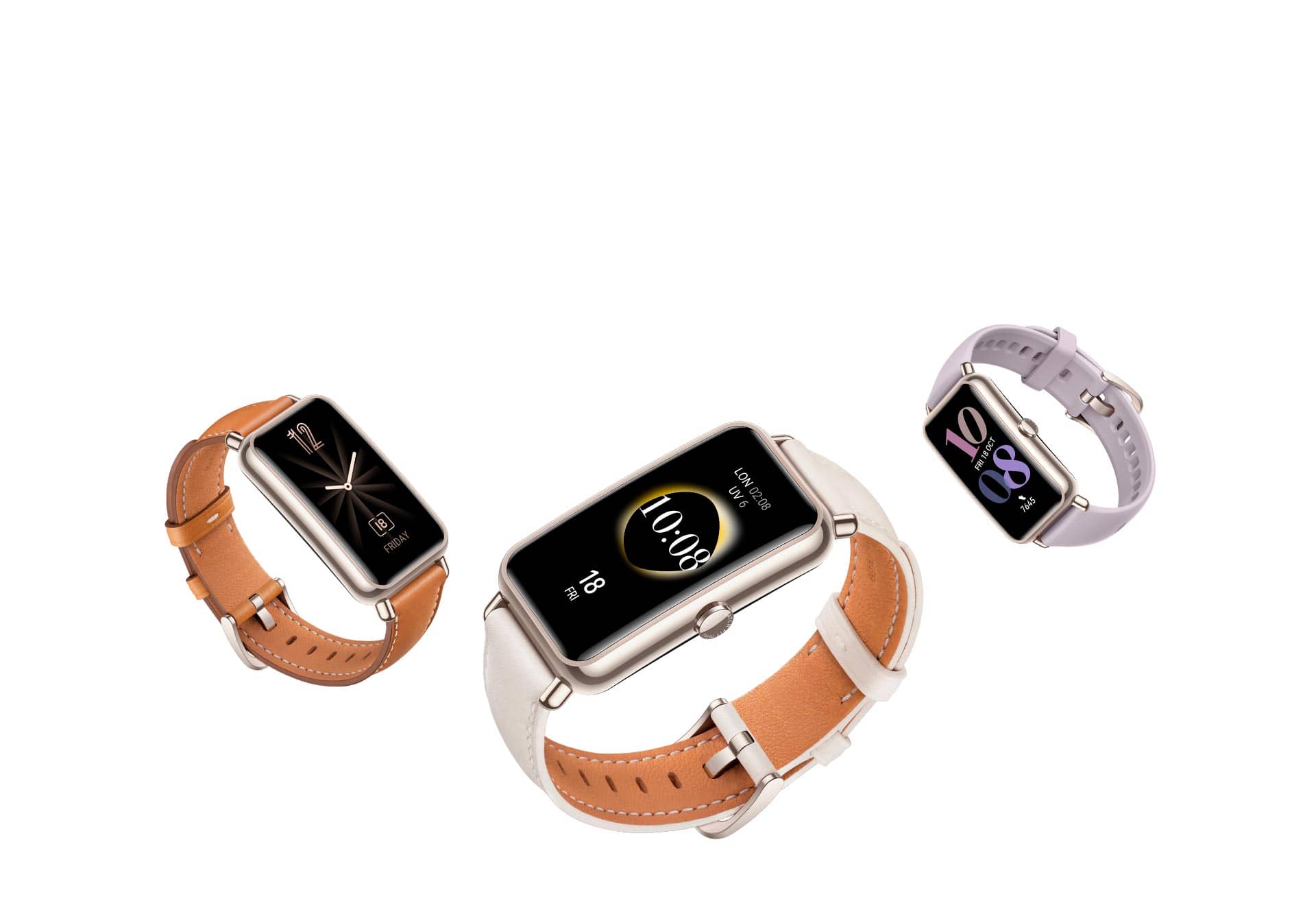 Go smart,
last longer
HUAWEI WATCH FIT mini offers an incredible battery life of 14 days for normal use, and 10 days for heavy use. When you run out of battery, no problem: get 2 days of use with just 5 minutes of charge through the magnetic charger 1 .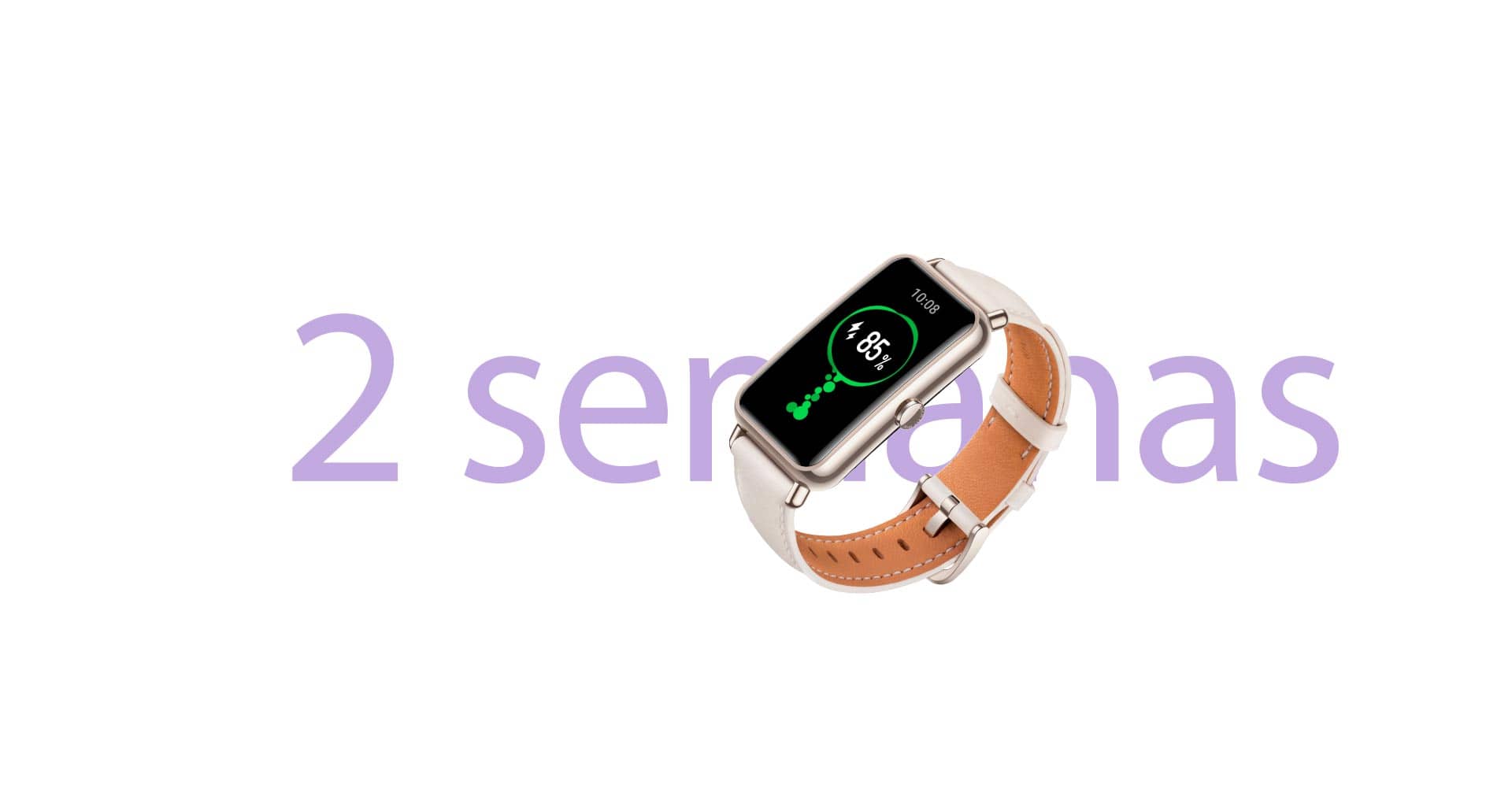 Menstrual cycle tracking 3
Keep an easy-to-navigate calendar of your menstrual cycle with the HUAWEI WATCH FIT mini. Receive discreet and timely reminders of when your period is coming, so you have an attentive and helpful friend on your wrist.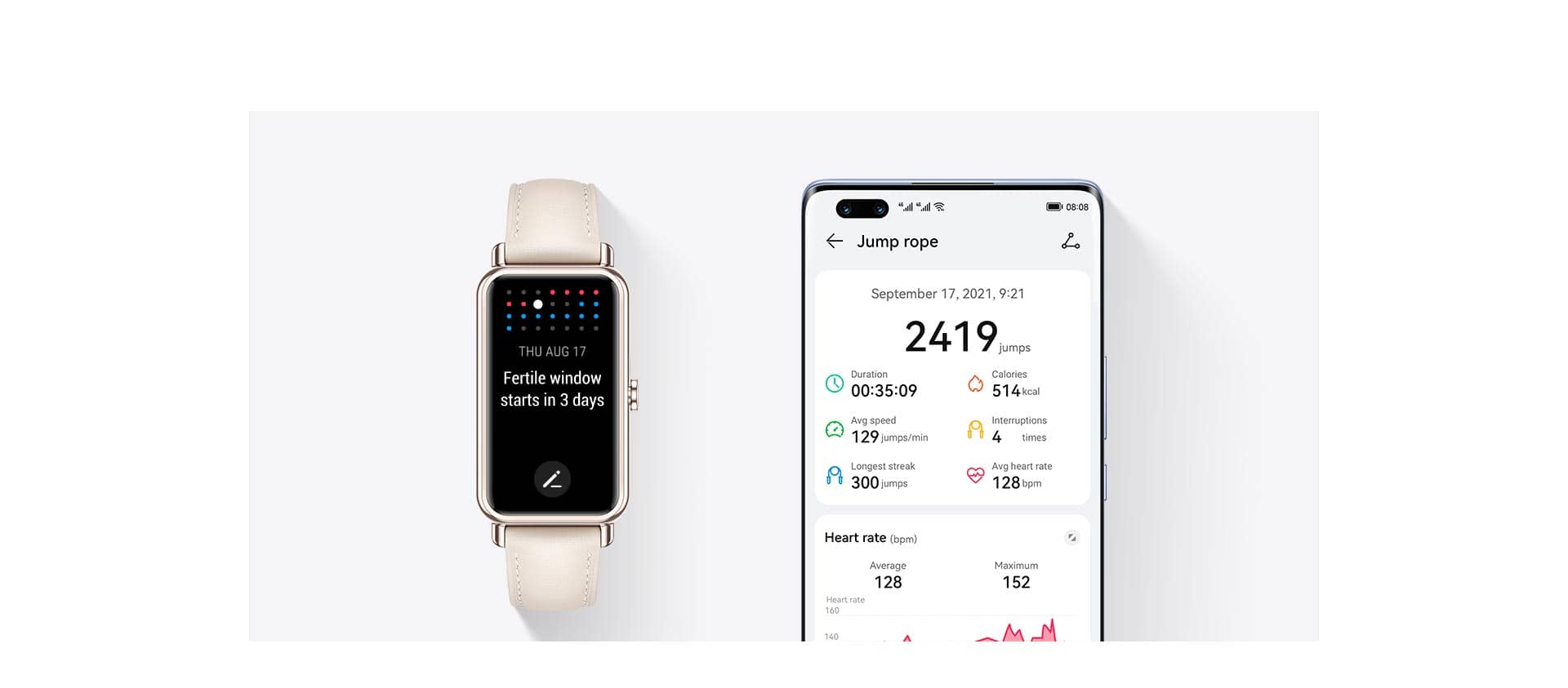 TruSleep ™ 2.0 Sleep Tracking
Enjoy higher quality sleep with TruSleep ™ 2.0 on HUAWEI WATCH FIT mini. 4 different sleep states - deep sleep, light sleep, REM, and nap - can be tracked with 96% improved accuracy. Plus, get over 200 sleep improvement tips for the top 6 sleep problems.
SpO2 monitoring throughout the day 4
When your blood oxygen saturation, SpO2, is low, it can cause fatigue, memory loss, and even brain and heart damage. For these reasons, you want to make sure you always stay in the safety zone. HUAWEI WATCH FIT mini has a built-in SpO2 detection system that monitors your blood oxygen saturation 24 hours a day. If it goes too low, the watch vibrates so you can take time to breathe and regain your balance.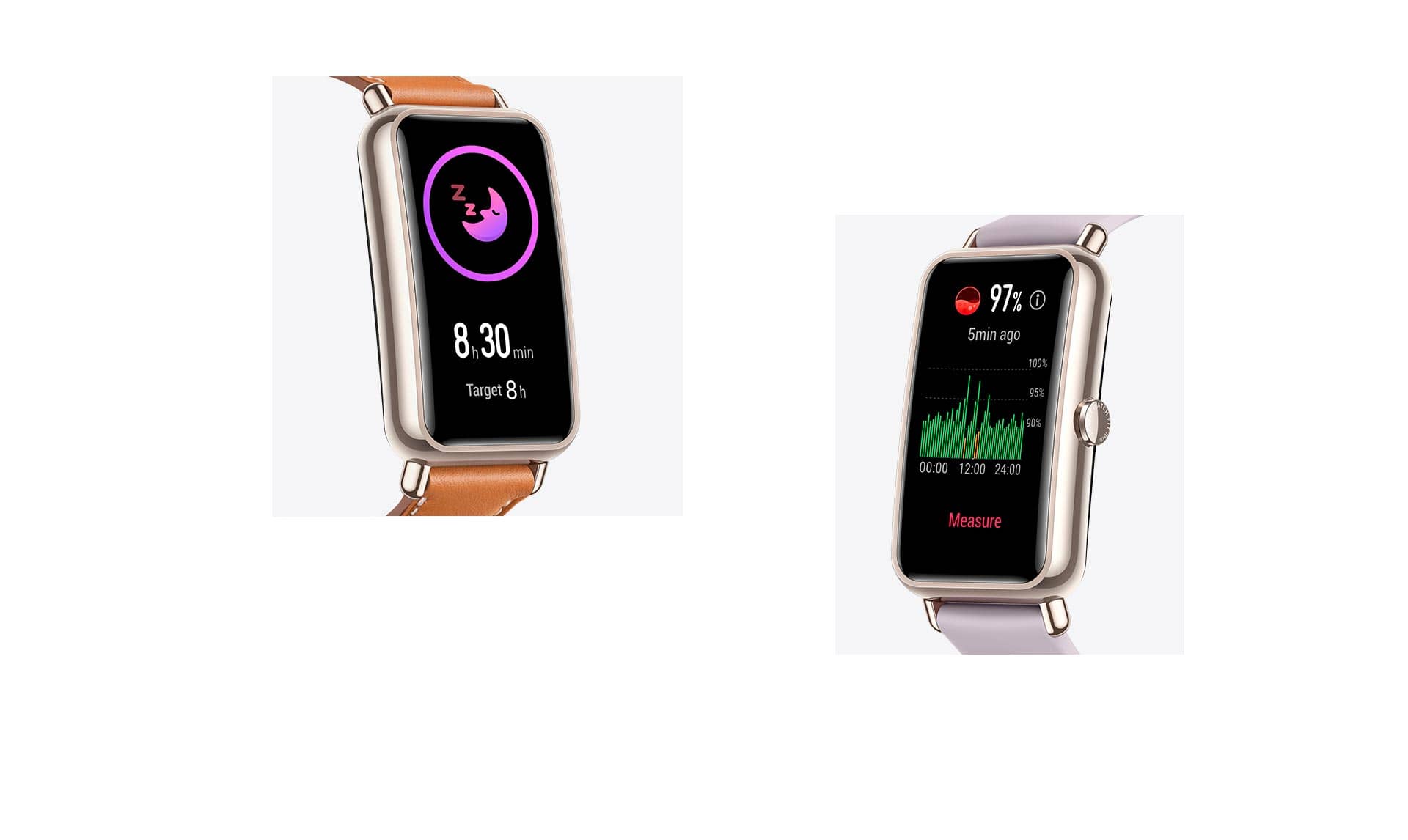 24/7 heart rate monitoring
Keep your heart racing with TruSeen ™ 4.0 heart rate monitoring technology. Thanks to the precision optical lens and data processing based on artificial intelligence, you can get an accurate reading of your heart rate 24 hours a day and receive an instant alert if it exceeds or falls below safe levels.
TruRelax ™ Stress Monitor
Brings calm to everyday stresses. TruRelax ™ stress monitoring lets you know when things are getting the better of you, allowing you to use the built-in breath training guide to keep your feet on the ground at all times.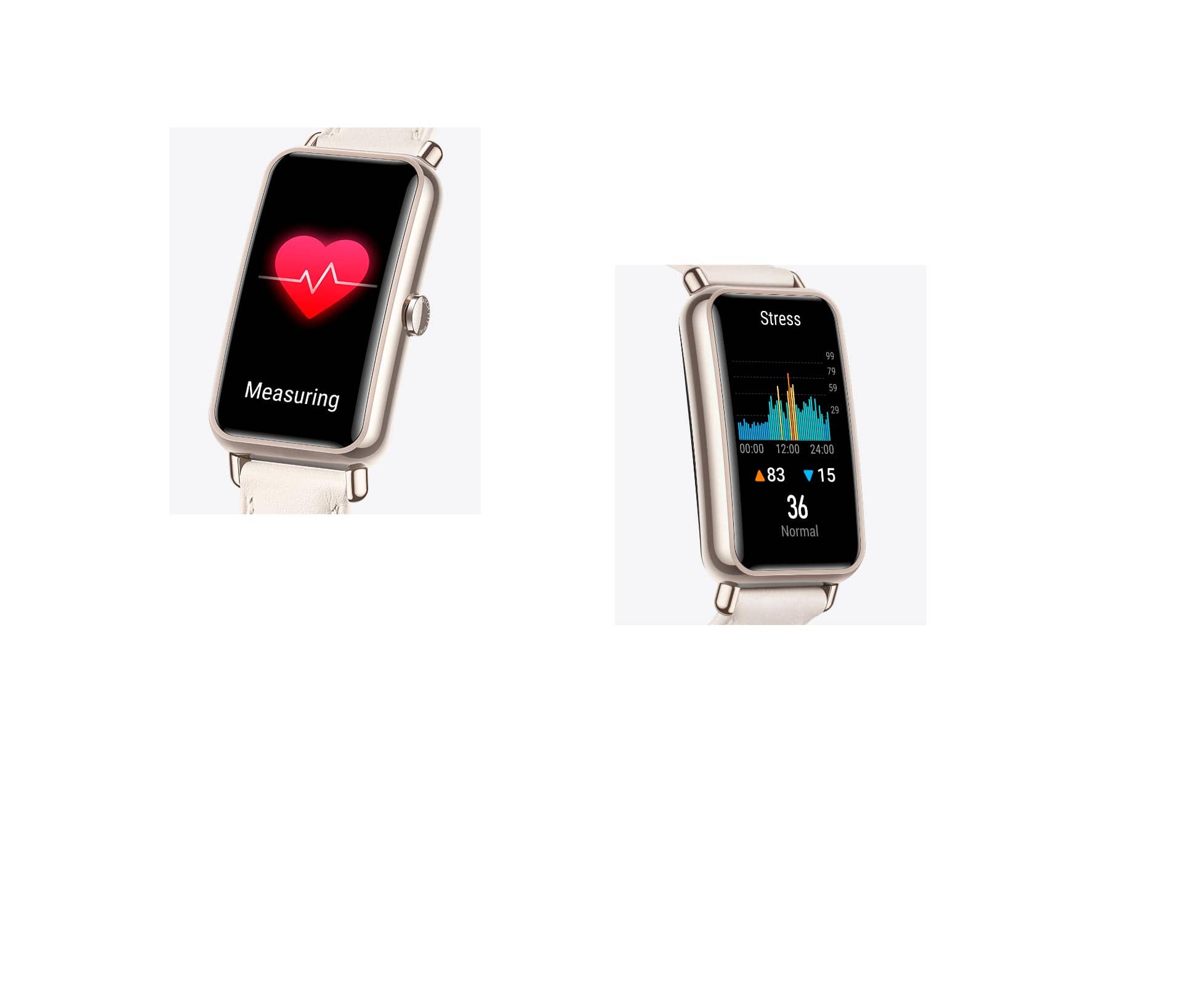 Enter Activity Mode
Choose from up to 96 different indoor and outdoor exercise modes 5 . Plus, monitor your activity levels with 3 daily activity goals (steps, hours of activity, and moderate to high intensity activity) through colorful and eye-catching rings.

Work everything
Keep track of your heart rate, calories burned, and more during workouts, including the new jump rope workout. See all your data stored and analyzed in easy-to-read graphs, so you can chart your fitness journey and set goals that inspire you.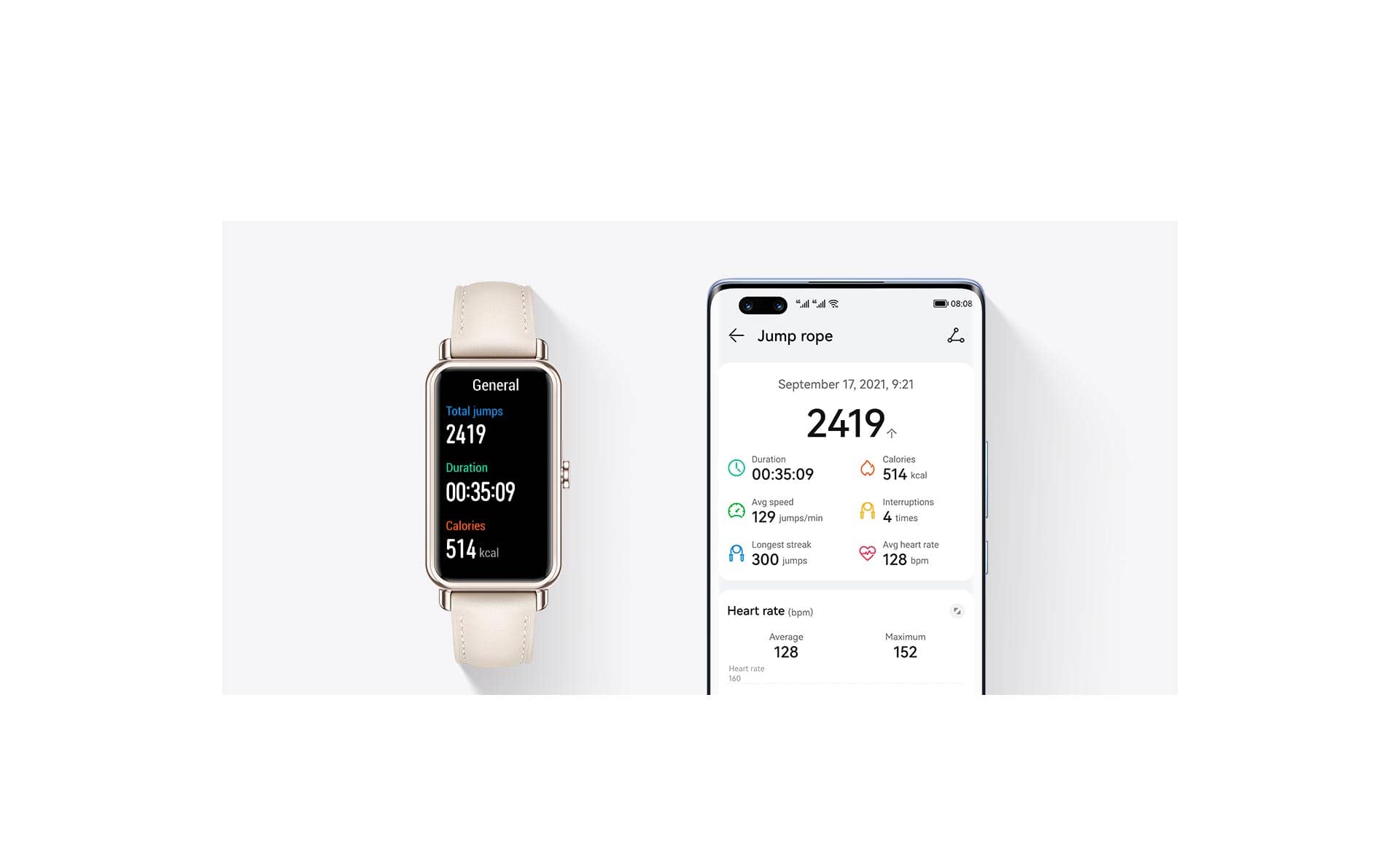 Personal assistant
Remote shutter 6
Use the remote shutter function to take photos through your phone's camera and never miss out on group photos again.
Music control 7
Control your music playback on your phone through HUAWEI WATCH FIT mini.
Call notification
When you receive a call, see who it is from the comfort of your wrist.
Instant message reply 7
Too busy to take the call? Respond instantly with an automated message or simply reject the call without picking up the phone.
Huawei Warranty!
This product is guaranteed by its official distributor in Jordan (
Huawei
), You will get a warranty sheet upon completion of your order.
Delivery time
Order HUAWEI WATCH Fit Mini now, to get same day delivery inside Amman, within 24 hours outside Amman and other regions.